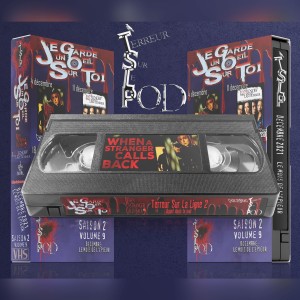 Saturday Dec 04, 2021
TSLP Ép. 62. Terreur sur la ligne 2 (When a Stranger Calls Back) 1993
Invité: Jean-François Leblanc, réalisateur du court métrage Landgraves
Cette semaine, nous te présentons la suite du classique de 1979 (When a Stranger Calls) aussi appelé Appel dans la nuit.
Au menu:
Une impardonnable coupe Longueuil, un Charles Durning un peu "fatigué", un ventriloque astucieux et malaisant, un propriétaire de bar un peu rude (tout un bar!), un enquêteur zélé qui est prêt à tout (même à toucher du poil de pubis trouvé dans une poubelle) et notre (mini) quizz.  
Geneviève, n'oublie pas de rapporter la VHS à Bruno.
Bonne écoute!
Tu peux nous écouter sur la plupart des plateformes de baladodiffusions et sur YouTube https://bit.ly/30HxCIE
Aussi, tu peux échanger avec nous sur:
https://www.instagram.com/terreursurlepodpodcast/
https://www.facebook.com/Terreur-sur-le-Pod-111446400732063
https://www.instagram.com/lafreniere.serge/
@surlepod sur Twitter
WASCB Edits
Résumé chanté: Ed Sheeran - Shivers
https://www.youtube.com/watch?v=Il0S8BoucSA
OOh! On va r'garder "When A Stranger Calls Back"
Avec Julia pis sa coupe de cheveux
La pauvre fille, Business in the front,
Mais Party in the back
C'est P't-être pour ça que
Le Stranger veut lui sacrer une claque
Et je dis
OOH! As-tu r'gardé "When A Stranger Calls Back"
Aik la gardienne qui vit dans la TERROR
On rappelle Jill et pis John
Pour qu'ils r'viennent faire leur smart
Et p't-être couper les méchants cheveux
When a stranger calls back UH!
Quatres Saisons
https://www.youtube.com/watch?v=TSZdbO5mx2s
Gaby Gravel - Télé Québec
https://www.youtube.com/watch?v=ZkAVGUNEfkE
LIKE MOI TOP | Les traductions de Gaby Gravel
https://www.youtube.com/watch?v=Nr6XYhPzBcA
Ending BG:
Diamond Eyes - Flutter
Bugs & Daff - Duft Pank
musicbyLUKAS X Mastrovita - Hold On
Nodis - STONE COLD (feat. Barny Fletcher)
EMDI - Hurts Like This (feat. Veronica Bravo)